02-13-2023, 01:20 AM
Volvo boss says dealers 'flawed' ahead of shift to agency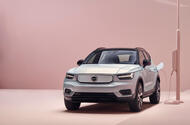 Fixed pricing for all Volvo models could arrive as soon as May
Volvo is switching to the agency sales model in the UK to boost customer engagement
The traditional car sales model is "flawed", Volvo CEO Jim Rowan has said ahead of the brand's switch to agency sales in the UK.
Speaking on a call with journalists after the company released its full-year financial results, Rowan expressed his surprise that "a $40,000-$60,000 product" could be sold without its maker ever engaging with the customer. "For me, that's a flawed business model," said the former Dyson president and CEO.
The company is poised to accelerate its plans to switch to the agency model in the UK. That means operating its own sales portal online, selling its cars for fixed prices and handling customer relationships itself, as well as paying dealers a fixed handover fee rather than letting them run the sales process.
Autocar recently reported that this could happen as soon as May, with dealers understood to have been told last month.
The switch is about making sure Volvo is "still part of that conversation" with the customer, said Rowan, in a bid to boost retention in the long term.
The UK will act as a test bed for other markets, Rowan confirmed, with success measured against customer engagement. Volvo will then evaluate the model's performance and consider expanding it to other markets.
Mercedes-Benz became the first manufacturer to move to the agency model at the start of this year and several other brands are set to follow suit in the coming months and years.
However, the model has been criticised by some customers for removing haggling and forcing prices up and by some dealers for removing their expertise and training from the sales process. Some manufacturers not planning to make the transition - including Hyundai, Kia and Renault - have also raised that last issue as reasons for not rushing into a change.
Most recently, Renault's UK boss, Guillaume Sicard, told Autocar he remains committed to a traditional dealer model but he refused to rule out the possibility of a switch to agency: "I love dealers. I love and respect the job they do in the market, how they communicate with customers and how they manage relationships with manufacturers. I think we need to respect that.
Read the full interview: Renault UK boss recaps his bumper first year
"But I also have to remain open-minded. That doesn't mean we should never do it. The challenge of talking to customers directly is enormous and we are not able to do that today. Maybe we will be one day, so maybe in a few years we will reconsider."
When asked about Volvo's plans, a UK spokesperson provided the following statement to Autocar: "Volvo Cars always strives to offer our customers the best possible experience. We want to meet and support our customers where they want, and expect, to meet us – whether they're researching online, visiting a retailer location or coming into one of our showrooms.
"To that end we're launching an omnichannel sales model, underpinned by strengthened digital capabilities, more price transparency and continuous engagement of our retailer network. 
"Our commercial transformation is well under way in the UK, where we have already begun rolling out the new omnichannel model. The UK is on course to complete this transformation later this year, with more markets to follow in due course. Stay tuned."
Additional reporting by Charlie Martin
https://www.autocar.co.uk/car-news/busin...ift-agency