09-24-2023, 03:33 PM
Volvo to end diesel production in early 2024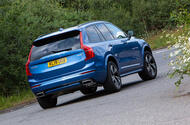 Volvo XC90 B5 mild-hybrid diesel
Swedish firm takes next step in electric reinvention by axing final diesel-powered models
Volvo will end production of diesel-engined cars in early 2024, as it ramps up its plans to become an electric-only brand by 2030.
The Swedish company quietly ditched the last of its diesel models from its UK line-up at the start of this month, with only full-electric, plug-in hybrid and mild-hybrid petrol models now on sale here. But it currently still sells diesel powertrains in other markets. It will stop offering those models, making it the first major 'legacy' manufacturer to entirely ditch diesels.
Volvo has long signalled its intent to axe diesel models and previously spun off its combustion engine development business into a company called Aurobay, a joint venture with Chinese parent firm Geely. Volvo then sold its stake in Aurobay late last year and says it will no longer spend "a single krona" of its budget on the development of new combustion engines.
The confirmation that Volvo will end diesel powertrain production by 2024 was made at Climate Week NYC in New York – and marks a rapid transformation. As recently as 2019 – the year Volvo launched the XC40 Recharge as its first EV – the majority of Volvo models sold in Europe were powered by diesel.
Diesel sales in Europe have slumped since then, a decline led by changing customer tastes due to concerns about both climate change and the greater nitrogen oxide emissions of diesel engines, a particularly problem in urban areas.
Company boss Jim Rowan said that "electric powertrains are our future", claiming that the firm is "fully focused on creating a broad portfolio of premium, fully electric cars that deliver on everything our customers expect from a Volvo".
Volvo will launch the new EX30 and EX90 electric-only SUVs in the coming months as part of its switch to become an electric-only brand – and a wider goal of becoming a climate-neutral company by 2040. Rowan added: "What the world needs now, at this critical time for our planet and humanity, is leadership."
He said that both industry and political leaders needed to deliver "meaningful policies and actions" to combat climate change.
Volvo also recently axed saloon and estate models from its UK line-up, to focus on its higher-selling SUV range.
https://www.autocar.co.uk/car-news/new-c...early-2024