04-18-2023, 09:51 PM
Watch: Autocar drives 'hands-off' in UK with Ford BlueCruise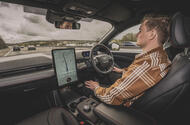 It is the first time 'hands-off' tech has been approved for use in the UK
BlueCruise is a £17.99-a-month option for use on 2300 miles of UK motorway; we try it in a Mach-E
Hands-off driving is now legal in the UK as Ford becomes the first car maker, from today, to offer semi-autonomous cruising on 2300 miles of British motorways – the first country in Europe to allow such a move.
Offered as a £17.99 monthly subscription extra for 2023-model-year Ford Mustang Mach-Es, BlueCruise allows drivers to take their hands off the steering wheel while the car drives itself in designated, premapped "blue zones" (which include the M25 and the M40), following approval from the Department for Transport.
Autocar has tried the new tech - scroll down to read what we think. 
This new level two-plus autonomous tech – launched in parts of the US and Canada last year – works as an add-on to Ford's current intelligent adaptive cruise control (IACC) and will take over when entering these zones with IACC active. Drivers will be alerted as to when they can remove their hands from the wheel.
Like IACC, BlueCruise will keep pace with other vehicles (up to the set speed and to a limit of 80mph), slow down with traffic and adjust speed according to road signs.
So this is what it's like to take your hands off the wheel - legally - on UK roads in the @forduk Mustang Mach-E. Could this change the commuting game? pic.twitter.com/mbDMngAVbJ

— Autocar (@autocar) April 14, 2023
<script async="" src="https://platform.twitter.com/widgets.js" charset="utf-8"></script>
The new tech builds on this, with predictive speed assistance when approaching a sharp curve and "human-like" lane positioning that "subtly" shifts away from larger vehicles – such as lorries – in adjacent lanes, as drivers "tend to do intuitively", Ford says. Unlike its US counterpart, the UK's BlueCruise will need a driver's steering input to change lanes.
BlueCruise still requires the driver's attention to be on the road, though, and is dubbed a "hands-off, eyes-on" feature – given it is not fully autonomous level three, where the car can take over entirely in certain situations. This means the driver must remain 'in the loop', while the car controls the driving functions.
Therefore, an infrared driver-facing camera monitors the driver's concentration levels and will shut off the self-driving mode – and even bring the car to a gradual stop – if the driver does not respond to alerts when the car believes they're distracted.
This is similar to Tesla's semi-autonomous Autopilot (available in the US and other non-European countries) but there are differences because Ford includes more safety systems, such as the eye-tracker, and a limit to the roads on which the tech may be used.
Martin Sander, general manager, Ford Model E Europe, said: "It's not every day that you can say you've placed one foot in the future, but Ford BlueCruise becoming the first hands-free driving system of its kind to receive approval for use in a European country is a significant step forward for our industry. 
"Modern highways can be demanding even for the most confident drivers, and intimidating for many. BlueCruise can do some of the 'heavy lifting', to make highway driving less of a chore, and give drivers that little extra confidence and convenience."
More than 100,000 miles of tests drives in the UK and mainland Europe – which followed more than 600,000 miles in the US and Canada – means the tech is well suited to British roads, Ford says, with everyday issues – such as worn-out lane markings, poor weather and roadworks – still picked up by the car's five radars and cameras.
"There's a good reason why Ford BlueCruise is the first hands-free driving system to be cleared for use in a European country: we've proven beyond doubt that it can support the driver while also ensuring that they keep their eyes on the road for their safety and that of their passengers while the system is active," said Torsten Wey, manager, advanced driver assistance systems, Ford Europe.
The Blue Oval is also looking at adding BlueCruise to older Mustang Mach-E models – equipped with the optional Tech Pack or Tech Pack+ – via an over-the-air update. The use of BlueCruise in other markets is also under consideration.
Ford's eye on level two-plus (a new, semi-official classification) comes after the company ended its long-running campaign seeking legal approval to test level-four autonomous vehicles (AVs) on public roads in the US, citing the long-term unprofitability of the technology. Instead, its resources are aimed at "nearer-term" level two-plus and level three technologies.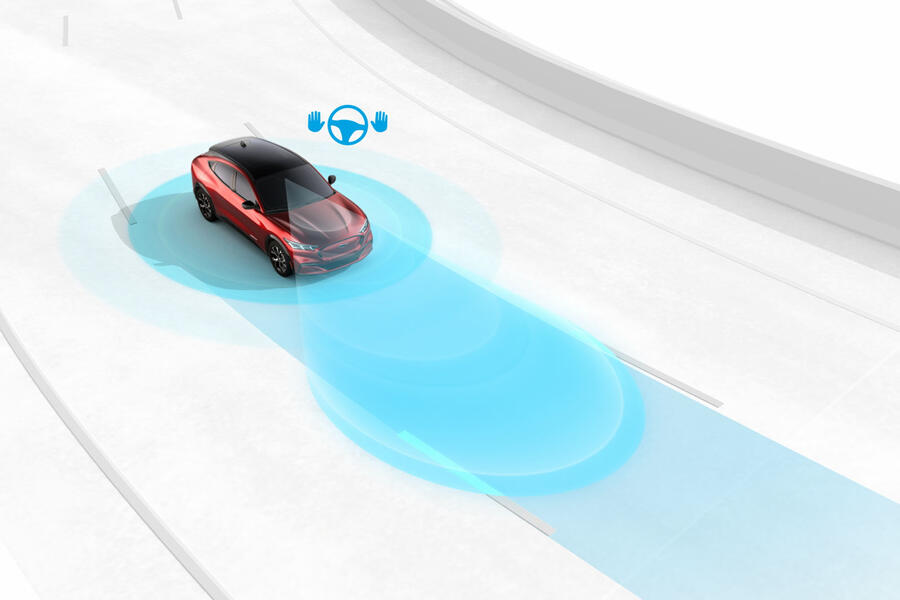 Nevertheless, BlueCruise's introduction to the UK market will open the door for many other car makers to follow suit. BMW has already said it will offer "address-to-address" level two-plus capability on its Neue Klasse EVs, due from 2025. This will, like BlueCruise, be offered via a software update for those willing to pay. 
Elsewhere, Mercedes-Benz is making gains with level three technology, which doesn't require the driver's full attention. Germany and the US state of Nevada have given permission for the car maker to use its Drive Pilot on public roads. The system, fitted to the latest Mercedes-Benz S-Class and EQS, is capable of taking control over driving at speeds of up to 40mph.
What is BlueCruise like on UK roads?
Hands off, eyes on: simple in theory but it's fairly unnerving to try it for the first time - not least because drivers of passing cars don't know you're in control of the car. We clocked a couple of suspicious glances from fellow road users and half-wondered whether we might appear on a YouTube compilation of 'awful UK drivers' in the next few weeks - but obviously this is all above board, so smugness soon prevails over anxiety. 
BlueCruise is essentially an enhanced version of adaptive cruise control - and works in a very similar way. You can put your hands where you want to, which is relaxing, but because the in-car camera constantly tracks your eye movements, you can't fully disengage from the act of driving and it's hard to gauge just how life-changing this tech will be. It's not like you can read a book or catch up on emails.
That said, it doesn't take long for the system to demonstrate its efficacy and intelligence, and you can quickly relax into the journey, safe in the knowledge the car is in control. Well, sort of: UK law has it that the bag of flesh in the driver's seat is still responsible for the car's actions, and insurance companies take the same view in the event of an incident. 
Look away for a few seconds and the system will quickly advise you to "watch the road", and if it senses persistent distraction or irregular road conditions, it hands control back to the driver. It seems to work flawlessly on free-flowing motorways up to the legal limit, but as with standard adaptive cruise control, it will probably feel natural to put your hands back on the wheel when the driving situation feels like it demands a more 'human' touch. 
Ford wants this system to be as intuitive as possible, and certainly – for all its revolutionary potential – BlueCruise can be mastered in a matter of seconds. But ultimately, it's probably not Ford owners who need to be convinced of the merits and safety of this technology, but other drivers who might be uncomfortable sharing the road with 2.5 tonnes of metal, moving at 70mph and almost completely in control of itself.
To the wary, Ford would cite some encouraging statistics from two years of BlueCruise being available in the US: with the technology rolled out to 200,000 Mach-Es, F-150 Lightnings and Lincoln Aviators so far, drivers have covered some 68 million miles with their hands off the wheel, and Ford has recorded precisely zero incidents. 
Torsten Wey, chief ADAS engineer at Ford, told Autocar that "there should be no doubt" about sharing the road with BlueCruise-equipped cars, because "we had safety in mind when we designed the system". Plus, the driver "is still supervising. We insist the driver is still in the loop." 
For now, BlueCruise is restricted exclusively to 'Blue Zones' - essentially highways and motorways where the risk of encountering pedestrians is absolutely minimal. In the UK, that currently comprises around 2200 miles of Tarmac – including the busy M40 and M25 – and Ford is still expanding the network. 
After rolling out the system to UK cars, Ford's UK managing director, Lisa Brankin, says the company has recorded "so much interest and enthusiasm" and adds that this is the latest example of Ford pioneering game-changing technology for mass-market motoring. Having scaled back its plans for advanced, level four autonomy, Ford will now prioritise rolling out level two-plus worldwide, and eventually bringing it up to level three standard where market conditions allow. 
Wey said introducing BlueCruise to other Ford models in the UK is "definitely the plan" but would not be drawn on which cars would be in line for the tech. 
Felix Page
https://www.autocar.co.uk/car-news/new-c...bluecruise