04-13-2023, 04:55 PM
Watch: BYD cars jump on demand with radical suspension tech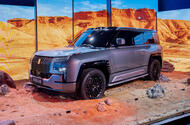 Disus-P will be first equipped on Yangwang U8
Chinese firm's Smart Disus system improves agility - but also allows cars to dance and drive on three wheels
Chinese giant BYD has revealed an all-new intelligent suspension system with vertical motion control, dubbed "the most advanced vehicle body control system of the industry globally".
Called BYD Disus Intelligent Body Control, the system will be fitted to models across the BYD vehicle group, including BYD, Denza, Yangwang and a new brand that will be launched in the summer. 
BYD said Disus will improve safety and reliability when on the road. It's formed of three systems: Intelligent Damping Body Control System (Disus-C), Intelligent Air Body Control System (Disus-A) and Intelligent Hydraulic Body Control System (Disus-P).
Cars equipped with the system are meant to benefit from improved agility "in most driving scenarios", greatly "reducing the risk of vehicle rollover".
Passenger safety is bolstered during high-speed cornering, emergency braking or full-throttle acceleration, BYD claimed.
Watch the video below to see the Disus system in action
DiSus-XThe most advanced vehicle body control system of the industry globally.#Yangwang #U9 #DiSus pic.twitter.com/XUX6TflyvO

— BYD Global (@BYDGlobal) April 10, 2023
<script async="" src="https://platform.twitter.com/widgets.js" charset="utf-8"></script>
Disus is also claimed to protect cars from scratches and damage in hazardous road conditions, such as snow, water and mud. 
It will first be fitted to the Denza N7 coupé-crossover and Yangwang U8 SUV.
BYD previewed the system on a modified version of the Yangwang U9 supercar (watch above), which was shown to dance and drive on three wheels. 
BYD also highlighted the Disus system enabling a car to drive on three wheels, jump and move from side to side thanks to vertical motion control. 
"The BYD Disus system is the first self-developed intelligent body control system launched by a Chinese automobile company, marking the breakthrough from zero to one," said Wang Chuanfu, BYD chairman and president. 
"The BYD Disus system will further secure the globally pioneering stance for BYD in the industry."
https://www.autocar.co.uk/car-news/new-c...nsion-tech