02-27-2023, 05:40 AM
What Car? Insight: The real impact of winning Car of the Year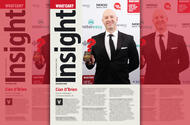 Download the latest issue of What Car? Insight below
Volkswagen Commercial Vehicles UK boss details the uptick in interest after winning What Car? Car of the Year
Welcome to the latest issue of What Car? Insight: a monthly deep dive into the new car retail sector, with exclusive insight from industry leaders, advice from What Car?'s crack team of mystery shoppers and some of the most valuable consumer data available to the industry. 
This month, What Car? Interviews Cian O'Brien, director of Volkswagen Commercial Vehicles UK, after it named the Volkswagen ID Buzz as its 2023 Car of the Year. What Car? also provides an inside look at the new-car market, tracking the discounts offered by an array of dealers around the country through its New Car Buying service.
Scroll to the bottom of the page to download the latest report or read any previous issue.
Interview: Cian O'Brien, director, Volkswagen Commercial Vehicles UK
What Car? asks the directors of Volkswagen Commercial Vehicles UK what the ID Buzz means for the firm and what impact Car of the Year honours have had, as well as what VW's tie-up with Ford means, and the company's main challenges for the year ahead.
EV news round-up
We detail the past month's biggest electric vehicle headlines, from Britishvolt going into administration to fast-charging costs exceeding petrol prices, and plans for EV-friendly car parks.
Target Price report
We break down What Car?'s exclusive Target Price data to reveal which models and brands have the highest discounts – with price cuts of almost 20% – as well as the most competitive segments over the past month.
Cars generating the most leads
We detail the most popular used car reviews on What Car?, as well as which new models are attracting the most interest from buyers. 
Briefing notes
We provide a quick-fire look at the most important facts, stats and quotes from the past month in motoring.
What Car? is Autocar Business's sibling publication, and its monthly Insight PDF is a critical source of exclusive information for car retailers and buyers alike. Check back next month for the latest issue, which will be available exclusively through Autocar Business. 
https://www.autocar.co.uk/car-news/busin...g-car-year