07-31-2022, 08:52 AM
Which sports cars can tow?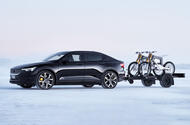 The Polestar 2 can tow up to 1500kg
Offering driving thrills and decent towing ability, here's our rundown of the best caravan-friendly performance cars
When you think of a tow car, it's no doubt something rather sensible that springs to mind. A solid and steady SUV or a dependable diesel estate, certainly, but it's unlikely to be the sort of machine that delivers driver thrills and dollops of design appeal.
Yet why shouldn't it be? Not all those who enjoy caravaning want to crawl along at the same snail's pace when they're no longer hauling their temporary home on wheels. Moreover, there's more to hitching up than a caravan. What about drivers who like to tackle the odd track day or motorsport meeting so need something to get their circuit star to and from the circuit? They no doubt also want something that's fast fun when the trailer is left at home.
So, there must be a sports car that can tow, right? Well, in the strictest sense of the term, the answer is sadly 'no'. When it comes to low-slung two-seaters with a focus on searing speed and razor-sharp responses, you're out of luck. However, if we broaden our definition to high-performance cars, there's much more choice than you'd ever imagine.
Of course, there are obviously quite a few go-faster SUVs, but you'll also find the odd surprise. To help make things easier, we've compiled a list of the best driver's cars that can tow from each manufacturer, so you can choose the car that's right for you without any hitches (or should that be with a hitch?). All the towing figures quoted are the maximum for a braked trailer on a 12% gradient.
For decades, Audi has been leading the practical performance car charge with its rapid RS-badged estates. The latest crop is the quickest and most versatile yet, with the RS4 Avant's twin-turbocharged 2.9-litre V6 serving-up 444bhp and 443lb ft combining with Quattro four-wheel drive for a respectable towing limit of 1900kg. Go for the larger and even more potent 591bhp RS6 Avant and you'll be able to haul 2100kg.
As you'd expect, there's a range of superheated SUVs to choose from too, including the closely related SQ7, SQ8 and RSQ8. Each is powered by the same 4.0-litre V8, although in various states of tune, but the impressive 3500kg towing capacity is shared by all of them.
You can even tow with a quick Audi EV, as like all the E-tron SUV models, the flagship tri-motor 496bhp E-tron S has a respectable 1800kg limit.
And if you fancy a large slice of luxury when towing, the S8 limousine could be just the ticket as it has a maximum towing capacity of 2100kg.
Over the course of more than a century, Aston Martin has forged an enviable reputation for delivering blue blood sports cars and grand tourers. Many of them, like the classic Vantage models, were serious heavyweights, but none was a tow car. Unsurprisingly, that changed with the DBX SUV, which, thanks to a twin-turbocharged 4.0-litre V8 from Mercedes-AMG and four-wheel drive, can pull a claimed 2700kg.
You're unlikely to find a Bentley owner who needs to tow a caravan. But a historic racer that needs to be transported to the track? Well, that's much more likely. There's only one option for this sort of thing in the upper-crust British brand's brochures, and that's the Bentayga SUV.
All can tow up to 3500kg, including the gob-smackingly quick Bentayga Speed, which features the firm's famed 626bhp 6.0-litre W12 that can fire it from 0-60mph in 3.8sec (and not available in Europe any more). Of course, towing this much will have a disastrous effect on the car's already wallet-bashing 19.2mpg claimed efficiency.
It's BMW that springs the first of our surprises, because who would have thought the BMW M5 super-saloon would be certified to have a tow bar? Its 616bhp 4.4-litre V8 isn't short of torque, which helps the fast four-door pull up to 2000kg.
The same engine is used to even more impressive effect in the X5M and X6M SUVs, which are rated to haul 3000kg. For the smaller, 503bhp 3.0-litre straight-six-powered X3M and X4M, this figure drops to 2400kg.
The M3 isn't currently homologated to allow towing, so if you want to hitch up a trailer to something 3 Series-shaped, you'll have to settle for the M340i, which can cope with 1800kg.
When it comes to the brand's ever expanding range of electric cars, the rapid 544bhp BMW i4 50M saloon is capable of pulling 1600kg, while the attention-grabbing iX 60M SUV manages 2500kg - hardly surprising, given its stump-pulling 749lb ft torque peak.
Seat's sporty spin-off brand has a number of models that will comfortably tow, including the car that started it all: the Ateca. This compact SUV features four-wheel drive and 296bhp 2.0-litre four-cylinder petrol for an impressive 2100kg maximum.
A slightly more powerful 306bhp version of this motor appears in both the sleek Formentor crossover and the Leon Estate, which can cope with trailers and caravans of up to 2000kg and 1900kg respectively.
The Blue Oval's list of fast and fun tow cars is short, while the towing ability of two thirds of their offerings is among the weakest in this list. In fact, both the pugnacious 197bhp Puma ST and electric 480bhp Mustang Mach-E can manage only a puny 750kg.
For more muscle you'll need the refreshed Focus ST, which uses the thumping 276bhp of its turbocharged 2.3-litre four-cylinder to good effect with a very useful 1600kg weight limit. Go for the versatile estate version and you'll have car that's as quick down your favourite back road as it is handy at the caravan park.
Hot hatches are the great all-rounders, combining scorching pace and acrobatic agility with family-friendly practicality and modest running costs. Even so, it's surprising to find the excellent 201bhp i20 N isn't afraid to pull its finger out when towing, with an impressive maximum of 1100kg.
Step up to the recently facelifted i30 N and this limit is 1600kg for both the versatile hatchback and head-turning Fastback.
The same mass can be pulled by the Kona N crossover, which is powered by the same 276bhp turbocharged 2.0-litre petrol.
The embattled British brand used to be famous for its sports cars, but with the F-Type heading for the exit door, Jaguar is left with only saloons, estates and SUVs. Oh, and the excellent electric I-Pace, of course. Although not strictly a high performance model, the EV does deliver 395bhp and impressively agile handling, although its 750kg towing limit isn't much to write home about.
Surprisingly, the only other driver's car on the Coventry concern's books is the outrageous F-Pace SVR, which goes as fast as you'd expect, thanks to a 550bhp supercharged 5.0-litre V8, and is more engaging than anything weighing more than two tonnes has any right to be. It can also pull up to 2400kg if you need it to.
The contrasts between Kia's pair of performance heroes couldn't be starker. Representing the old school is the underrated and hugely likable Stinger GT-S with its turbocharged 3.3-litre V6 and expressive rear-wheel-drive handling. Yet despite having a healthy 361bhp and 406lb ft on tap, the sleek five-door hatchback is certified to tow only 1000kg.
At the other end of the automotive timeline is the sensational EV6 GT, which packs a Porsche Taycan-baiting 577bhp from its dual-motor set-up, which is enough for a towing limit of 1800kg.
The only entry in our list from a bona fide supercar manufacturer, even if the car itself isn't one of the wedge-shaped exoctics normally associated with Lamborghini. No, the Italian firm gets on this list thanks to its brutish Urus SUV. Using the same underpinnings as the Audi RSQ8 and Porsche Cayenne, as well as a bellowing 641bhp version of the familiar 4.0-litre V8, the high-rise Lambo is quick. And while there are no official towing figures for the car, it can be fitted with a tow bar, plus the size of the load that some have seen suggests that it shares the RSQ8's 3500kg limit.
The demise of the Range Rover Sport SVR means that the hottest Land Rover tow car is the Defender V8. That's no bad thing, because it packs a thunderous 525bhp supercharged 5.0-litre V8 and a chassis that has been developed to deliver 'playful' handling. More importantly for this list, it can tow the same impressive 3500kg as other, more utilitarian Defender models.
Here's another name that you wouldn't expect to pop up on any caravan aficionados' site. However, like many low-volume performance brand's struggling to survive, Maserati is placing plenty of eggs in the SUV basket.
Quickest of the lot is the Porsche Cayenne-chasing Levante Trofeo, which uses a 580bhp 3.8-litre V8 that packs a spine-tingling bark and a towing limit of 2825bhp. Aimed at the smaller Porsche Macan, the Grecale Trofeo can haul 2500kg courtesy of its 523bhp 3.0-litre V6, which is related to the unit used in the brand's MC20 supercar. Neither feels as polished dynamically as their German rivals, but these Italian soft-roaders aren't short of character.
As you'd expect, it's AMG-fettled models that dominate the list of hot Mercedes-Benz tow cars.
We will start with the four-cylinder cars, which include the A35, A45, CLA 35, CLA 45, GLA 35, GLA 45 and GLB 35, all of which include the brand's 4Matic four-wheel drive. The 35-badged cars feature 302bhp turbocharged 2.0-litre and can all tow up to 1800kg. By contrast, the 45 models feature a more powerful 416bhp version of the same engine, yet are only rated to pull 1500kg.
For those looking for a traditional saloon or versatile wagon, there's the 423bhp E53 Estate and 603bhp E 63 S Estate, which manage to haul a respectable 1900kg, although you'll struggle to get near the latter's incredible 0-62mph of 3.4sec when doing so.
Next up is the brand's rollcall of big SUVs, any of which would cause a bellowing stir if you pitched up with one at a campsite near you. The GLC is available in both SUV and Coupé guises, with both the 385bhp GLC 43 and the 503bhp GLC 63 S capable of being hitched up to as much as 2170kg.
However, if you really want some trailer-towing muscle, you need either the GLE 53 or snarling V8-powered GLE 63 S, complete with their impressive 3500kg limit. This is the same figure as the ever-so-slightly unhinged and slab-sided G63.
Curiously, the stately GLS 63 is rated at 200kg less than its identically engined relations. For the full 3500kg, you need the eye-watering expensive (£166,255) Mercedes-Maybach GLS.
Despite its thumping 701lb ft torque output and rapid 3.8sec 0-62mph time, the EQS 450 electric limousine can manage to pull only 750kg.
It may be a small car specialist, but Mini has a couple of quick cars that can also turn their wheels to towing. The hot John Cooper Works versions of the Clubman and Countryman feature the same 302bhp turbocharged 2.0-litre and four-wheel drive, with the former rated to pull 1500kg and the latter 1800kg.
There was a time not that long ago when Peugeot was a hot-hatch hotbed, but increasingly onerous emissions regulations have severely reduced the French firm's quick-car quota. Flying the go-faster flag now is the 350bhp plug-in electric 508 PSE in both saloon and SW estate guises. Strong performance and refreshingly fluid handling prove the brand hasn't forgotten to have fun, but the 1270kg towing limit (10kg lower for the SW) isn't as heavy-hitting as the acceleration.
Volvo's youthful sibling brand is big on sustainability and slick design, but the flagship 402bhp dual-motor 2 fastback also serves up plenty of speed. It's surprisingly good to drive, too, with accurate handling and plenty of poise. You can also hitch up to as much as 1500kg, making it one of the more muscular EVs.
Unsurprisingly, it is Porsche's SUVs that haul hardest, with the plug-in hybrid 671bhp Cayenne Turbo S E-Hybrid capable of pulling up to 3000kg. The smaller Macan GTS isn't quite as strong, but its 2400kg rating isn't to be sniffed at.
You can also fit a tow bar to the Panamera saloon, but with a limit of 750kg it's limited to small trailers and trailer tents - although if you own one of these machines, you're probably not camping for your holidays.
While the standard and Long Range versions of the Tesla Model 3 can tow up to 1000kg, the rapid Performance version isn't currently homologated to haul a trailer of any sort. Even so, even the less spicy models are hardly sluggish, with the entry-level saloon capable of zapping from 0-62mph in 5.8sec. All are equally poised and agile as well, and the Model 3 is by far and away the American EV brand's best driver's car.
However, if you want stunning performance and the ability to tow a caravan, the gull-winged Model X Plaid takes some beating, even if its chassis is rather wooden in its responses. Packing an eye-widening 1005bhp from its three motors, the SUV can rocket from standstill to 60mph in 2.6sec as well as tow up to 2250kg.
Top of the Volkswagen towing tree when it comes to delivering driver fun is the Golf R, which serves up 312bhp and features a four-wheel-drive chassis that majors on agility and driver engagement. It can also be fitted with a tow bar and is rated to pull up to 1900kg.
We should also mention the Touareg R, which boasts a very impressive 3500kg towing limit. However, bear in mind that the plug-in hybrid SUV is dynamically identical to lesser Touareg models, which means it prioritises comfort and refinement over heartrate-raising driver excitement.
Although not a traditionally sporty brand, Volvo has a long history of delivering superheated saloons and estates that serve up more fun than the firm's safety-first image would have you believe. The latest are the plug-in hybrid S60 T8 and V60 T8, which combine twin-charged (that's turbocharged and supercharged) 2.0-litre petrol engine with an electric motor for 449bhp.
Composed and capable rather than synapse-snappingly thrilling, the Swedish saloon and estate siblings are undeniably satisfying and can tow up to 2000kg.
https://www.autocar.co.uk/car-news/new-c...rs-can-tow