04-21-2022, 05:25 PM
Why British GT is becoming Britain's budget buster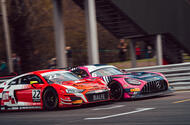 Adam Carroll's Balfe Motorsport Audi R8 LMS and Jules Gounon's RAM Racing Mercedes-AMG were neck and neck into the final lap of the first race of the season
A grid full of supercars, driven by some of the world's best. What cost of living crisis?
Motor racing is a resilient thing. Aside from a break for two world wars, racing has continued almost non-stop through global recessions and political upheavals and even a global pandemic slowed it down for only a matter of weeks.
And perhaps there's no better example of that resilience than in GT racing. Outside of a top-level Formula 1 car or a Le Mans prototype, the machines don't get much more expensive than GTE or GT3 cars, with every grid boasting multi-millions worth of carbonfibre and aluminium.
The British GT Championship roared back into life at Oulton Park at the weekend (#Report">read the full race report report below) with a 31-car grid, the value of which easily outstrips that of any other modern domestic championship. So while the wider world has growing concerns about the rising cost of living and pence per gallon, the GT racing world continues apace, producing a great spectacle. But why is this area of racing so unaffected, and so successful?
The answer lies in the wide-ranging appeal of British GT – in its class format, and who each caters for, which is a much wider variety than most other championships of type. Take the British Touring Car Championship as a contrasting example. The UK's leading tin-top series has become hugely popular with heroes, villains and great racing. It's become so good that it now outshines any international offering. The BTCC is a destination championship, a place drivers want to get to and not leave.
British GT has an element of that, too, but also a deeper appeal. The heart of GT racing is Pro-Am competition, where a wealthy amateur can share a car with a professional, both to utilise the pro's obvious speed, but also to use them in a coaching capacity. The GT3 class operates mostly for this type of pairing, with the amateur paying the bill to have the pro alongside. At the same time, the Silver-Am class allows an amateur to share with a younger, semi-pro driver. This creates an interesting mix because while the amateurs are all on a level playing field, the Silver-graded drivers get to showcase themselves against the best-in-the-world Gold drivers.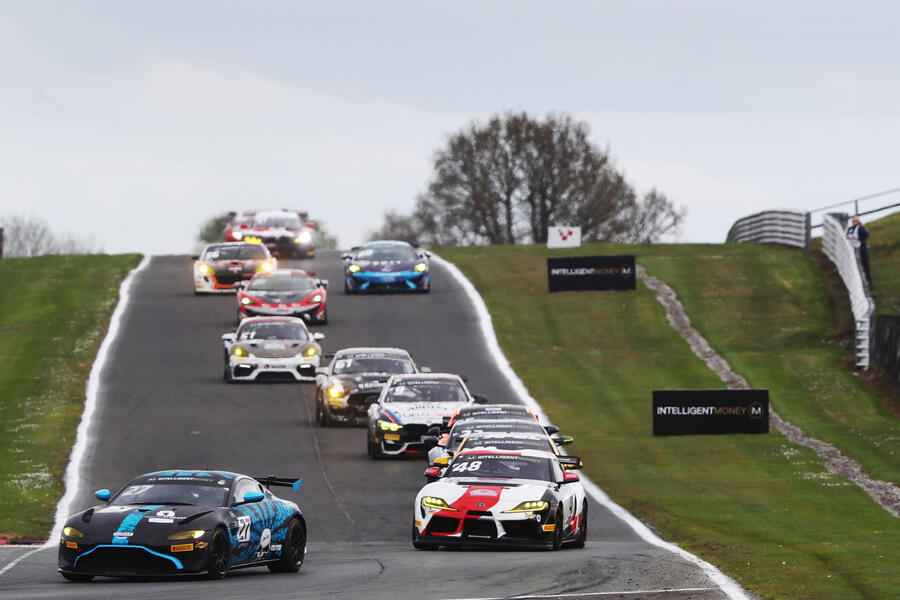 RAM Racing is running two Mercedes-AMG GT3s this year, with its headline Pro-Am pairing being Ian Loggie and AMG superstar Jules Gounon, and a Silver-Am car for John Ferguson and aspiring professional Jamie Caroline.
RAM's boss Dan Shufflebottom says: "The strength of GT3 is that it offers more than one thing to more than one person. If we look at Ian, who's been a hugely successful businessman, he prefers to share with a world-class professional like Jules, who he can learn from and try to better himself. Then on the other side is Jamie in the Silver-Am car. His speed certainly isn't in question as he's won Ginetta Junior, British F4 and even British GT4 in the past, and those successes have earned him a chance in GT3. And now he's sharing a garage with one of the best pros in the business [Gounon], which both gives him a performance benchmark and also an example as he should be watching how Jules executes a race weekend, in everything he does on and off rack. For a young driver, that's a real learning experience if they aim for a professional career in GT racing."
And therein lies another key to GT3's success. While paid drives in single-seaters and touring cars are scarce at best, there are far more career opportunities in GT racing. British GT isn't the end game for drivers like Caroline: it's a stage to get noticed. Championships like the GT World Challenge Europe are bigger still, with more classes, global circuits and even tighter competition. Do well in British GT3 and there's always the chance a European deal may follow, putting a young driver in front of all the major manufacturers.
The same goes for the amateur racers, too. Admittedly, some just prefer to race domestically (less time out of the office, no need for the faff of international travel…) but others use British GT as their own proving ground before heading off to GTWCE to take on the international field. Two-time British GT champion Andrew Howard is doing that this year, as is Loggie, who is running a dual campaign with RAM in British and GTWCE with the SPS Performance Mercedes-AMG team.
And then there's the lower-cost GT4 field. Featuring less power and aero than the GT3 cars, these production racers are still mighty sports cars, just at a more accessible price point. Being more production-based, the components for GT4 cars are cheaper. So while they may still have the same big-capacity engine as their GT3 siblings, use the same number of tyres (similar size and cost, too) and burn the same amounts of fuel, the real budget difference lies in the cost per kilometre of running them – a figure calculated by taking literally everything into account, from how long a set of brakes pads will last to when the driveshafts need changing. The most expensive GT3 cars can hit above €30 per km to run, so about £180 for a single lap of Silverstone in layman's terms. GT4s are nowhere near that.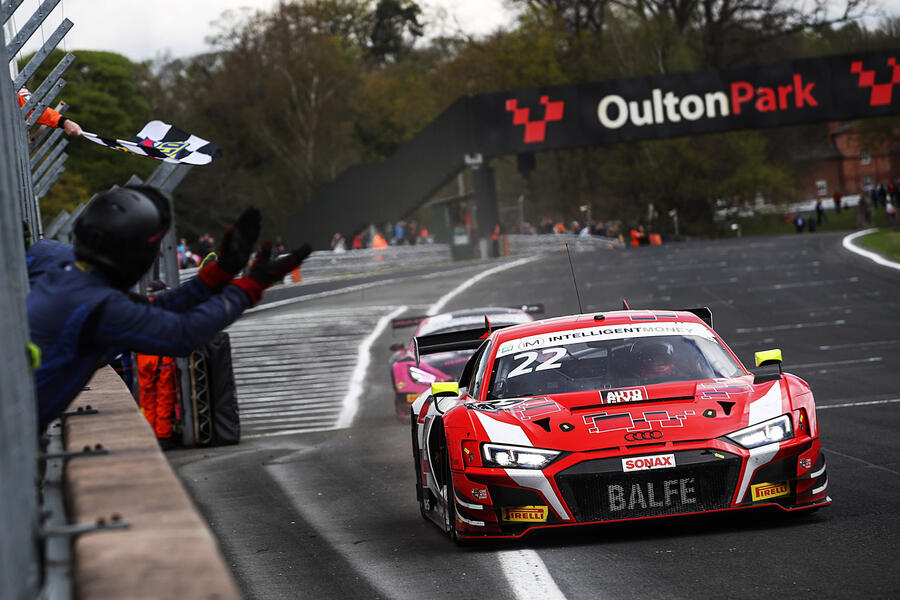 What's driven growth in GT4 is arguably how the racing landscape has changed for young drivers. This year, the vast majority of British GT4 entries are in the Silver Cup class, for two semi-pros sharing the drive and the budget. In past years, many of those types of drivers would target single-seaters: Formula Ford or F4, then F3 and often be blinkered toward the F1 dream. However, the rising cost and constantly closing doors of that journey has been a wake-up call.
I recently had it explained to me that for the cost of a single season in the European Formula Regional by Alpine (essentially rung two, Formula Renault level) a driver could instead do the six-round GT4 European Series and the six-round French GT4 Championship in whatever car they liked with whatever team they chose, plus have change left for testing. Therefore, many young drivers have skipped off the formula ladder straight into an Aston Martin, McLaren, Porsche… the sort of cars that if somebody offered you one as a teenager, you'd bite their arm off.
And the career path GT4 offers works. Win in GT4 and you gain the attention of GT3 teams, and perhaps more importantly the wealthy amateur drivers looking for a team-mate. Grasp your chance in GT3, and theoretically you could go anywhere if you're good enough. Pro-Am still exists in GT4, but for how long is debatable. Part of British GT3's strength is that the amateurs footing the bill are fighting for outright race wins. In GT4, they're largely fighting for class success against a field of semi-pros. British GT used to boast a Silver Cup class in GT3, but difficulties in balancing it effectively to still allow the Pro-Am crews a chance to win races outright proved difficult and risked alienating the championship's core audience.
So don't get fooled into thinking that British GT is just a playground for the rich. There are more layers than just that. But, for us mere mortals, just the sight of those muscular, fire-breathing pieces of automotive exotica racing door to door is excitement enough.
Robert Ladbrook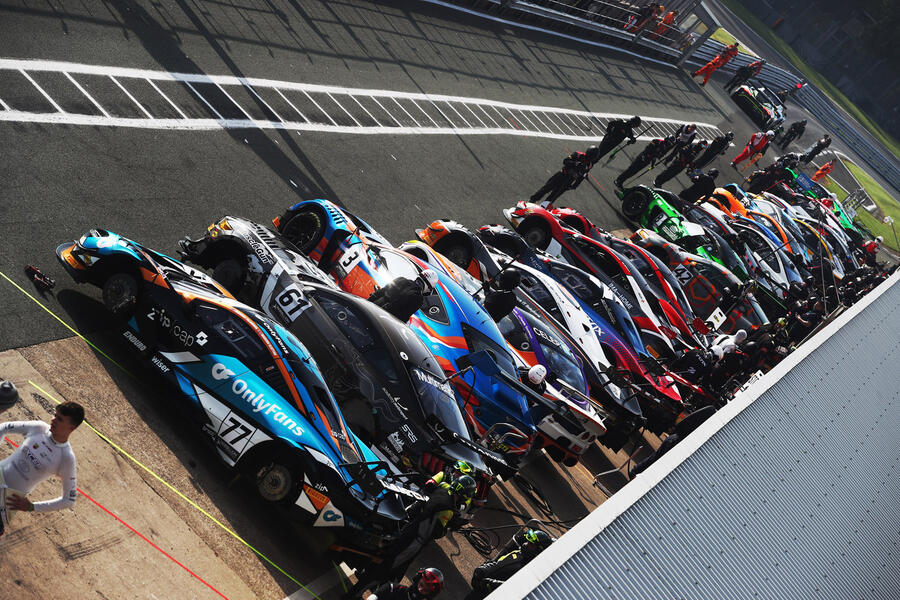 Race result: British GT, Oulton Park
Adam Carroll called on all his vast experience to fend off fellow 'pro' driver Jules Gounon to win a thrilling first race of the 2022 British GT Championship at Oulton Park in Balfe Motorsport's new Audi R8.
Team-mate Shaun Balfe started from pole position but plummeted to sixth on the first lap only for a series of penalties for rivals to push the car back up the order once he'd handed over to Carroll.
Frenchman Gounon took over from amateur team-mate Ian Loggie in RAM Racing's Mercedes-AMG and challenged Carroll in the final laps, but the ex-Jaguar Formula E racer held on to claim victory.
The second 60-minute thrash on bank holiday Monday was complicated by a mid-race downpour that forced a stoppage and a final 25-minute sprint to the flag that left the series' success penalties being added to the result that spectators saw on the track. So even though Gounon and Carroll took the flag first and second, the third-placed Paddock Motorsport McLaren of Martin Plowman and Kelvin Fletcher was actually declared the winner.
Damien Smith
https://www.autocar.co.uk/car-news/motor...get-buster