05-30-2022, 01:53 PM
Why now is the time to buy a proper high-mileage hero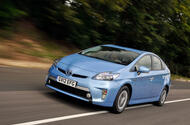 Popularity among private-hire drivers makes Prius plentiful
A high mileage scares most people away from a used car, but we promise that some are bargains, not money pits
It all started with a 390,000-mile Toyota Prius – a 2011 60-reg 1.8 VVT-h T Spirit, to be precise.
A friend spotted it in the classifieds and reckoned that at £3150 and with 12 months' AA breakdown cover, it was worth a look. Personally, I reckon he was swayed by the seller's use of that oldest trick in the book: "First to see will buy." Still, I made the call, and you know what? "First to see" had done exactly that.
It set me thinking about high-mileage Prii (the plural of Prius, apparently). There are just so many of them. Is it the UK's most plentiful leggy motor? Very possibly, although there are tons of mileagey Ford Mondeos and Volkswagen Passats, too – unsurprisingly, given their fleet associations. However, it's the Prius that keeps popping up in the small ads, due in the main to its popularity among private-hire vehicle (PHV) drivers and operators.
My friend's Prius may have sold overnight, but it took me a second to find another with the same mileage.
Bizarrely, seriously high-mileage Prii like these are more credible purchases than those with around 150,000-200,000 miles. In our previous feature about car clocking, we reported on a 2010 Prius that had done a claimed 180,000 miles.
However, its MOT history showed it had been clocked and a mileage expert we consulted reckoned that in reality it had done 400,000. This knowledge didn't stop me popping over to the dealer who had sold my friend's car to see if he had others and what high mileage does to a Prius.
The first thing to say about a high-mileage Prius, indeed any seriously high-mileage car, is don't expect the dealer selling it to set much store by opening hours, a smart premises and a welcoming cup of coffee. The profits in high-milers don't encourage such practices.
Although I was at his Portakabin for 10am sharp and stayed for 30 minutes, I saw no sign of the dealer.
I did see his remaining Prius, though: a 2004-reg 1.5 T Spirit with 168,000 miles, priced at £3995. That raised alarm bells, confirmed when, on checking its MOT history, I saw that at some point between 2011 and 2012, it had been 'adjusted' from 238,000 to 108,000 miles. This meant the car had in reality done 300,000 miles.
It looked like it had, too. Its pale velour interior was darkly soiled, the steering wheel was shiny smooth and the column shroud wore a light dusting of skin cells and assorted detritus. Elsewhere, the plastic windscreen scuttle had become brittle and cracked and the alloy wheels corroded beyond saving.
I had seen enough and left to view another Prius, a 2014-reg 1.8 T3, with a genuine 230,000 miles on the clock. With still one year of its PHV licence left to run, this £9000 example was a rare thing, but sadly neither it nor the dealer was anywhere to be seen.
That left one more: a one-owner, 2011-reg 1.8 T4 with 163,000 miles, priced at £6795. This time, the dealer was present, meaning I could take it for a spin.
My brief drive proved that while cars don't improve with mileage, some disguise it better. The 163,000- mile Prius rattled its way around the block, but its brakes were strong, its engine was reasonably pokey and its CVT slurred without complaint.
Its seats were surprisingly supportive, too, and not that badly creased. However, I was reminded that early Prii are plasticky and rather bland things, better suited to carrying fares than families.
Talking of which, as the ride-hailing service Uber encourages its 'partner-drivers' to abandon their Prii in favour of fully electric cars (it wants to be emissions-free in London by 2025), we can expect more of these hybrid pioneers to wash up in the classifieds.
Indeed, local authorities' PHV-licensing rules are already doing a good job of flushing them out.
Mine recently announced that a new licence won't normally be granted in respect of a vehicle registered more than five years prior to the date it has applied for. In addition, vehicles being licensed for the first time must meet or exceed Euro 6 emissions regulations. More pertinently for this story, a licence won't be renewed in respect of a vehicle first registered more than 10 years prior to the date of renewal.
These rules also apply in London, where there are around 80,000 PHVs, more than 30,000 of them Prii, making the model easily the dominant choice.
Other interesting hybrids scuttling around the capital include 1200 Honda Insights and 1000 Lexus CTs. One of these could make an interesting high-mileage buy, but do check its MOT history.
Is buying a high-miler a good idea?
There's nothing special about a high-mileage car; most cars can do well over 200,000 miles if looked after. Proponents argue that they're good value for money and that running one helps save the planet by extracting the most value from the CO2 produced in its manufacturing (ignoring its higher emissions, of course).
However, seriously high-mileage cars are generally old cars with, unless they're a Volvo or a MercedesBenz, poorer levels of crash safety. Being older means they're slower, dirtier and generally less refined than newer cars, too. All that said, there's no doubt that running a well-bought high-mileage car does feel like you're beating the system.
How to join the high-mile club
Even high-milers are clocked. Check any car's mileage at gov.uk/check-mot-history.
Buy privately to avoid an auction orphan and so you can quiz the previous keeper.
Ignore claims of "full service history" and scrutinise all invoices for evidence of regular servicing and major maintenance.
Hear it cycle from cold to hot, listening for ominous engine and gearbox noises, checking the temperature gauge and watching for oil smoke.
Make sure it has a fresh MOT.
Put it through its paces on an extended test drive.
Beware a lavish specification, as it only means trouble later on.
On a former tow car, check for suspension and clutch woes.
Don't be hung up on scrapes and scratches; rust matters more.
Avoid a car with badly damaged interior trim; it's expensive to replace and depressing.
Three more high mileage heroes
Volkswagen Passat, 2010-15: A bombproof diesel engine and interior are this high-miler's primary attractions.
Buyer beware: Check for rust spots, clutch slip and worn suspension.
One we found: 2011/60 2.0 TDI Highline Plus Estate, 286,000 miles, £995
Mercedes-Benz E-Class, 2002-09: If you've ever done the airport run in one of these, you will know why it's here.
Buyer beware: Listen for noisy rear suspension and check the gearbox changes smoothly.
One we found: 2008/08 220 CDi Elegance automatic, 238,000 miles, £2490
Ford Mondeo, 2006-11: A plentiful, good-looking, sharp-driving and well-built companion.
Buyer beware: Check the timing-belt replacement history and that the interior trim isn't annoyingly rattly.
One we found: 2009/09 2.0 TDCi Zetec, 200,000 miles, £1250
https://www.autocar.co.uk/car-news/featu...leage-hero