03-21-2022, 10:54 AM
Why the Pennzoil 400 was as thrilling as ever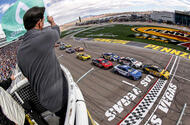 Alex Bowman won his seventh top-tier Nascar Cup Series victory, paying tribute to crew chief Greg Ives
Alex Bowman gave full credit to his crew chief Greg Ives for his seventh top-tier Nascar Cup Series victory in the recent Pennzoil 400 at Las Vegas Motor Speedway.
Bowman jumped from fourth to second in the final round of pit stops before an 'overtime' restart, as Ives gambled on fitting just two fresh tyres to the Chevrolet. It paid off as Bowman faced off against Hendrick team-mate Kyle Larson, the former heading the inside lane, the latter the outside. The pair remained abreast as they started the last lap, with Bowman striking for home out of the final turn four.
"This thing was so fast all day, I just never really had the track position we needed to show it," said Bowman. "But man, what a call by Greg Ives and the guys to take two there. Obviously, it paid off."
Reigning champion Larson led Martin Truex Jr at the top of the standings after three races.
Motorsport greats: Mika Häkkinen
He didn't say much, but Mika Häkkinen's talent spoke volumes as Formula 1's ultimate flying Finn beat Michael Schumacher to the 1998 and 1999 titles.
Häkkinen served his F1 apprenticeship at ailing Team Lotus before signing as a test driver for McLaren. When Michael Andretti's campaign stalled in 1993, Häkkinen stepped in at Estoril – and promptly out-qualified team-mate Ayrton Senna.
He nearly died in an awful practice crash in Adelaide two years later but showed incredible resilience to come back, and when Adrian Newey provided him with a top-line car in 1998, he found his wings.
Schumacher always said Häkkinen was his greatest rival, and he was no pushover either. When the Ferrari put the McLaren on the grass at nearly 200mph at Spa in 2000, Häkkinen composed himself, then pulled off one of the great F1 passes on the next lap.
Afterwards he had a quiet word… but didn't make a fuss. That wasn't his way.
https://www.autocar.co.uk/opinion/motors...lling-ever