06-06-2022, 12:05 AM
Whyte E-160 RS electric bike review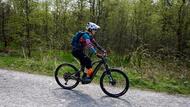 A full-suspension e-MTB that provides a stable and confidence-inspiring ride over whatever you throw at it.
Move Electric rating: four-and-a-half stars out of five
What does it cost? £6750
What is it?The Whyte E-160 RS is a full suspension electric mountain bike with pure thrill in mind. It's the more premium of the two E-160 options, with Fox suspension front and rear and a Crankbrothers dropper post to name a few exciting parts, it's got plenty on offer and at a competitive price. 
What is it like?  Let me begin by stating the obvious – this is one hell of a machine. It's British design at its finest, paired with a subtle 'Matt Moss' colourway which adds to the aesthetic. It's rugged and looks like it belongs on a wild moor or in the depths of a forest, so that's where I rode it, in some of Yorkshire and Lancashire's finest, with exciting results. 
That being said, I didn't unleash the full potential of this bike. I am familiar with Whyte bikes and know how the non-electric rough equivalent rides, but the size I tested was too large and thus the performance suffered. After the second lap of Gisburn Forest I did begin to feel more in tune with the bike and by no means was it horrendously difficult to ride, but I feel like I missed out on a little bit of agility and control having to wield a larger frame than I'm used to. 
Nonetheless, I can hands down say this is the most confidence-inspiring, exciting electric bike I've tested yet. The combination of the intuitive Bosch mid-drive Performance Line motor and my uttermost trust in the bike provided some of the best trail riding I've done in years. 
10 myths about electric bikes busted
Naturally, I'm by no means a professional. I'm quite happy spending most of the day on a blue or red line, but I found myself hitting features and technical ascents that I would normally avoid. Instead of ducking out when things got a bit techy, I found myself thinking, 'just push on a little bit more and see how far you can get'. 
I was also able to go much further than I'd be able to on a non-electric bike. Partially, I imagine this is psychological, and that I lack faith (or power) in my legs on my unassisted mountain bike, but the E-160 RS just continues to perform reliably with every power stroke. 
The Bosch system offers four assistance levels, but E-MTB is where this bike really comes to life. It's dynamic which means it reacts to the level of torque going through the sensors and thus provides as much power as you need in any given situation (up to 250W of course). I found this to be helpful in a variety of circumstances, from riding steadily along a fire road with a non-assisted bike buddy to putting the hammer down on a technical ascent where sometimes raw power and speed are my answer to reaching the top (I'm sure mountain bike instructors everywhere are wincing). 
The ride quality even when the motor isn't in use is impressive. Yes, it's heavy by comparison to a non-assisted mountain bike, but once the wheels are turning the only discernable difference is in the corners. I found myself wrestling with it a little bit but that's likely due to the sizing. 
One thing to remember with a full-suspension electric mountain bike is that you sacrifice some agility for the added power. It can be quite noticeable on some trails but on others, I flowed quite well with the bike. It's extremely planted, and the 27.5" wheels handled everything I threw at it well.
The Maxxis tyres (Assegai 2.5" on the front and Minion DHR 2.4" on the rear) handled everything from deep mud to loose gravel and rocks, while the Fox suspension soaked up everything without being lazy. Rock gardens became a fear of the past, and I even took some drop-offs in my stride.
The battery also deserves praise, lasting two trips to Gisburn with plenty of range to spare. SRAM GX Eagle is tried and tested and I found shifting to be crisp, although the brakes (SRAM Code R) did suffer from a little fading after a couple of longer descents. Finally, and this is perhaps a personal indulgence, there is space on the frame for a bottle cage – albeit a side opening one, but it's worth appreciating if you don't want to use hydration bladders. 
Forest of Bowland Gravel epic: what's it like to do a sportive on an e-bike?
This is a fantastic electric mountain bike and although yes, it is a lot of money, it's on par with some of its rivals from Trek, Moustache and Specialized. After a couple of hours on the bike, I would arrive back at the car park with a smile and nicely tired muscles, compared to my ride buddy who looked like he'd finished three stages of the Cape Epic.
That's not to say you don't work up a sweat or that the bike requires any effort to ride – it does, (nobody can escape the burning quads of 20 berms one after another) but by saving you energy on the climbs, it allows you to focus on your technical abilities and descending skills, as well as leaving you with a big smile on your face. If you're looking for something as comfortable on all-day epics on natural terrain as it is at bike parks and trail centres, the Whyte E-160 RS has you covered. 
Where can I buy it?From Whyte directly and from Whyte dealers across the country.
How does it arrive?If ordering from Whyte directly, your bike is sent to a Whyte retailer. The retailer will perform a pre-delivery inspection and you can collect the bike from them. 
VerdictAn absolute corker of a bike. If you want endless thrills and want to leave the trail centre feeling refreshed rather than completely worn out, the Whyte E-160 RS is a capable and grippy bike that will leave a smile on your face after every ride. 
Whyte E-160 RS
Cost: £6750
Frame size tested: Medium
Weight of bike: N/A
Groupset: SRAM GX Eagle, 12-speed; SRAM Code R disc brakes
Wheels: WTB HTZ i30 TCS 2.0, 27.5"
Tyres: Maxxis Assegai 2.5" front, Maxxis Minion DHR 2.4" rear
Motor: Bosch Performance Line CX mid-drive motor
Battery: Bosch 625Wh PowerTube
Suspension: Fox Float 38 forks, Performance 27.5", 160mm Travel; Fox Float Performance DPS rear shock
Mileage range: Varies (check Bosch range calculator for individual range estimation)
Assistance levels: 4 – Eco, Tour, EMTB and Turbo (plus Walk Assist)
Charge time: 5 hours
Included extras: Bosch Purion display, Crankbrothers High-Line 3 dropper post
READ MORE
Subscribe to the Move Electric newsletter
e-CARS
New electric cars for 2022 and beyond: what's coming when
New BMW i7 unveiled as luxury electric saloon
e-BIKES
Best e-bikes for every category 2022
Moustache Samedi 28.7 e-bike review
e-MOTORBIKES
Yamaha Neo's electric scooter review
Cake launches new global electric motorbike race series 
e-SCOOTERS
Government set to announce plans to legalise private e-scooter use
New study finds e-scooters are five times safer than bikes
e-WORLD
World's first airport for flying taxis opens in UK
https://www.autocar.co.uk/car-news/move-...ike-review