09-06-2023, 07:38 PM
Xpeng to launch in UK next year with G6 SUV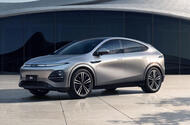 The UK will join Denmark, the Netherlands, Norway and Sweden in getting the G6
Chinese EV maker is already well-established in Europe and will now move into right-hand-drive market
Chinese EV maker Xpeng will launch in the UK toward the end of next year, it has announced.
Xpeng already sells electric cars in Denmark, the Netherlands, Norway and Sweden and is now planning a rapid expansion across Europe in 2024, including the start of sales in France, Germany and the UK.
It will offer Brits a right-hand-drive version of its newest mid-size SUV, the Xpeng G6, president Brian Gu announced at the Munich motor show on Monday.
The UK won't get the Xpeng G9 large SUV or P7 large saloon that are currently sold in left-hand-drive European markets, however.
The 4753mm-long G6 sits on Xpeng's new SEPA 2.0 platform, which integrates technology such as an 800V electrical architecture that allows for DC rapid-charging at rates of up to 480kW. 
In China, The Tesla Model Y rival is priced from ¥209,900 (£22,900) in single-motor, rear-wheel-drive form. The more powerful dual-motor, four-wheel-drive model starts at ¥276,900 (£30,200).
UK prices are expected to be significantly higher, after factors such as import duty, homologation and logistics are taken into account.
Battery choices are a 66kWh lithium-iron-phosphate (LFP) and a 87.5kWh lithium ion pack, which give 360 and 469 miles of range respectively on the Chinese CLTC test. This is normally more generous than the WLTP test used for the UK market.
"It comes down to economics," said Gu of the decision to restricted right-hand-drive development to new models. "We don't want to go back to old models; we want the latest technology."
Gu said other models on the SEPA platform would be developed with right-hand-drive to enable Xpeng to target the UK and other RHD markets. 
The company so far has stuck to the more traditional sales of model of signing up dealer groups, rather than selling to customers directly. The same approach will likely apply to the UK as well. 
Xpeng is one of crop of a new EV makers in China that has adopted the Tesla model of building digital-focused EVs with high levels of propriety technology.
The company hit global headlines in July when Volkswagen Group announced it had taken a 5% stake for around $700 million (£540m).
Xpeng will make available to the German giant the older platform underpinning the G9 SUV so that the Volkswagen brand can sell two larger EVs in China from 2026.
The agreement will help Volkswagen to expand its EV line-up in China to complement its current line-up of ID models, which are based on the Volkswagen Group's MEB platform.
The link-up immediately addresses Volkswagen's tech shortfall by providing 800V electricals, quicker connectivity, a smarter software package and sophisticated driver-assistance systems. 
https://www.autocar.co.uk/car-news/new-c...ear-g6-suv