08-23-2023, 01:40 AM
Zenvo Aurora begins new era with 1850bhp hybrid V12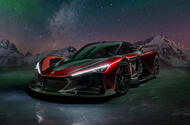 Aurora's V12 alone sends 1250bhp through the rear wheels
Hybridised 6.6-litre quad-turbo 12-pot powers the Danish firm's latest creation to a claimed 280mph
The arrival of the Zenvo Aurora marks the rebirth of the niche Danish supercar maker as it moves away from the brutalist ST1 and TSR models that have defined its 16-year history.
"We sat down in the beginning and questioned what this car should be," chairman and chief commercial officer Jens Sverdrup told Autocar. "Why should I buy this car? Why a Zenvo?"
The answer it landed on was a whopping great V12, measuring 6.6 litres in displacement and packing a quartet of turbochargers. Named Mjølner, after Thor's hammer, it produces 1250bhp at 8000rpm before thwacking against the redline 1800rpm later. 
"If an alien happens to land at a racetrack and they hear a couple of [our] V12s, they will have their hairs standing up and tears running from their eyes," Sverdrup said. "We are emotional beings, and [the sound] matters."
"It's the last chance" to produce such an extravagant engine, he added, but an element of hybridisation was still required to ensure compliance with the upcoming Euro 7 emissions regulations. To this end, the fastest Aurora receives three 200bhp electric motors – integrated into the powertrain and one on each front wheel – bumping total system output to 1850bhp.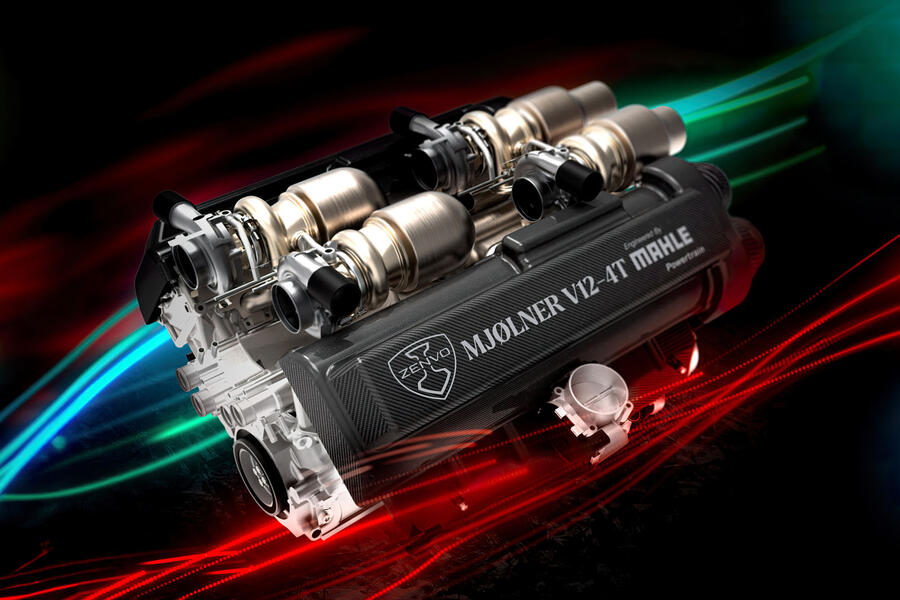 Zenvo claims this is enough to dispatch the 0-62mph sprint in 2.3sec, faster than a Bugatti Chiron Super Sport, before powering onto a top speed of 280mph. It is also capable of driving roughly 21 miles on electric power alone, enough to silently sneak out of town or a village on the way to a track day. "It's getting less and less acceptable to fire up a V12 at five o'clock in the morning,"  said Sverdrup, joking.
In spite of the Aurora's huge power output, Sverdrup claimed the brief was never about chasing headline-grabbing figures. He said: "We don't care how fast it is at the Nürburgring, because it will be fast anyway. For me, it's better if you are able to get in and out of the car easily. That's worth way more to me than adding or subtracting a second on track."
As such, the firm has concentrated its efforts on maximising mechanical grip rather than that from aerodynamic appendages. "I don't need downforce driving around on Sunday morning," said Sverdrup.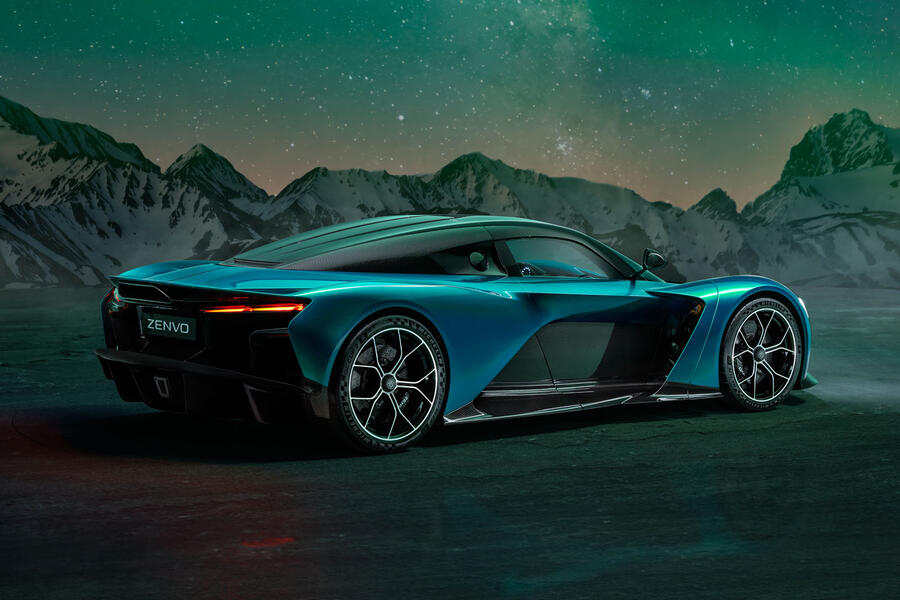 Inside, the aim was for the Aurora to immerse the driver as much as possible while remaining "pragmatic" about the car's technologies and connectivity. 
In turn, there are no large infotainment displays. Apple CarPlay and Android Auto smartphone mirroring are instead provided through one of three digital instrument screens, in similar fashion to the Audi TT. Explaining the absence of a conventional infotainment touchscreen, Sverdrup said: "You drive these cars to escape. It's like a motorcycle in a way. You go out for a drive to [disconnect and] clear your head a little bit."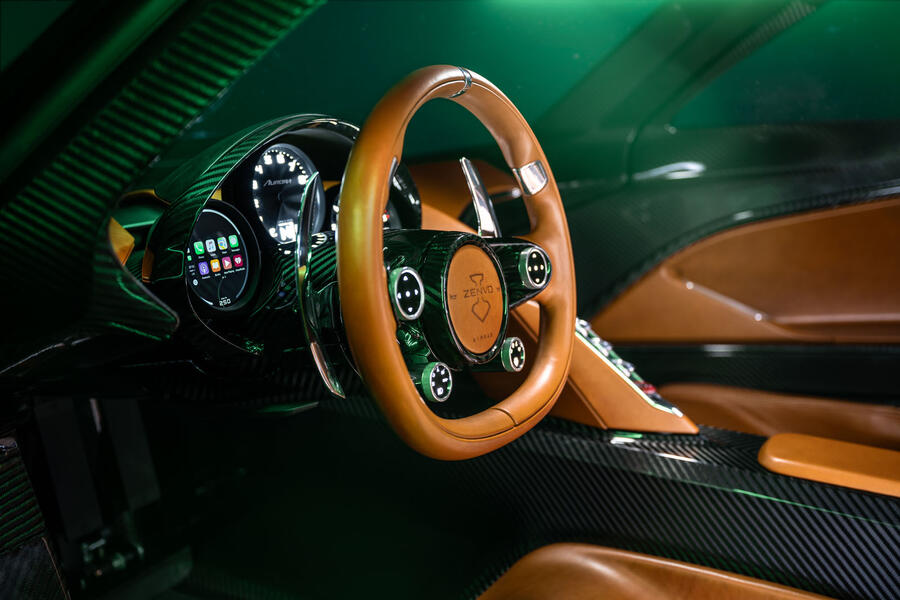 The Aurora will be offered in two specifications: 'Agil' (agile) and 'Tur' (touring). The former is a track-focused proposition that omits the two front motors – making it rear-wheel drive – for a dry weight of 1300kg, adding an array of aerodynamic appendages to enhance grip.
The Tur model, on the other hand, is four-wheel drive with torque vectoring at the front axle – intended to provide more secure on-road performance, given the absence of the Agil's aerofoils and large rear spoiler. As well as the additional motors, the Tur receives a more sumptuous interior, which contributes to a 150kg increase in its dry weight.
In either guise, the Aurora is clearly a high-performance machine: air dams run through the entire length of the low-set hypercar, and its carbonfibre monocoque is exposed on each flank. "We've got nothing to hide," said Sverdrup.
Prices will start at €3.6 million (£3 million), Sverdrup said, with an indeterminate premium for customisation and optional extras. Zenvo plans to build 100 cars in total – 50 of each specification – from 2025, with customer deliveries starting a year later.
https://www.autocar.co.uk/car-news/new-c...hybrid-v12