The up-to-£80k electric SUV arrives amidst Kia's fashionable age, but it must stay in touch with its market
We took a first look at the EV9 in a studio in Seongdong-gu, which Kia bosses described to us as the Seoul equivalent of Shoreditch - and if that doesn't tell you all you need to know about the brand's outlook, go and have a pint at the Truman Brewery on Brick Lane on a Saturday afternoon.
Kia's transformation into one of the most fashionable and socially conscious marques on the market continues at a blistering pace, and with the EV9 it is applying that ethos to a car the likes of which it has never produced before. 
Bosses are keen to avoid using the words 'premium' and 'luxury' when talking about the car, and that ties in to an unwillingness to paint the EV9 as out-of-reach for the young families for whom it has been so obviously conceived. 
"We are in the midst of an inter-generational gap," explained Karim Habib. "And I think you can see that in Korea: there's a population that's ageing, but at the same time, we see that in our design department, there's a lot of power to use the culture."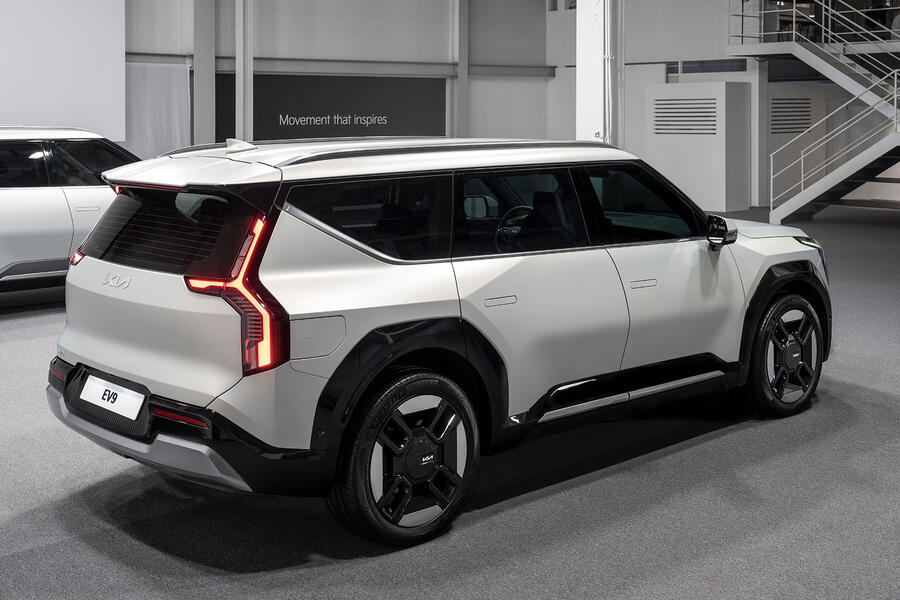 The EV9, then, has been designed to appeal to those older buyers who have historically been loyal to the German stalwart premium brands, at the same time as going after the younger buyers whose custom will be so crucial to the success of Kia's forward strategy.
Whether a car this large, family-focused and expensive can truly capture a share of the youth vote remains to be seen, but as a halo product, the implications the EV9 has for the styling and technology of future A- and B-segment models are evident - and intriguing. 
It's a similar approach to Volvo, whose £100,000 EX90 will spawn a much more affordable and compact crossover aimed at attracting non-traditional customers to the brand.
As an embodiment of this approach, the EV9 is pretty convincing: it's a relatively conventional two-box SUV but packed with new-fangled electrickery and novel interior solutions to cover off about 19 core demographics all at once. It's a vicious cycle, though: here's hoping it's not too much of a success, as ubiquity will erode its X factor no end.